Nice Heating Services in Montclair, VA
When your furnace stops working or starts costing too much to operate, don't hesitate — contact the team at Nice Heating & Air and let us get your heating system back to the way it ought to be.
With our award-winning customer service and workmanship, you'll be glad you chose Nice Heating & Air. Whether you need heating maintenance, repair, replacement, or installation, you'll be served with a customized solution for your needs.
Ready to schedule heating service in the Montclair area? Call 703-884-2376 or contact us online today to schedule a service.
Signs Your Montclair Home Needs Heating Repair
It's always a pain to lose your heat because you may not notice until you need it. If your furnace is still limping along, don't hesitate — let our team come and resolve the problem before you end up completely without heat. Signs you need heating repair include:
Cool or lukewarm air
Strange sounds such as squeals and clangs
Not enough air coming through your vents
Strange odors like sulfur, burning rubber, etc.
Your heating system turns on and off frequently without hitting your target temperature
Contact our NATE-certified technicians to schedule nice and friendly heating services. Prompt heating repair services save you money by minimizing damage to your HVAC and home.
Montclair Heating Maintenance
Regular maintenance plays an important role in the proper function of any HVAC system, especially furnaces and their use of heat and combustion. Wear and tear will reduce the efficiency of your system, increase energy consumption, lead to breakdowns and costly repairs, and worsen indoor air quality if you don't attend to it regularly.
Our NATE-certified technicians will analyze your system and restore it as close as possible to its peak condition; we'll look at components prone to damage, electrical connections, etc., and resolve any issues we come across.
By making minor repairs early, you'll save yourself money and frustration down the line. The easiest way to do that is with our Cozy Club maintenance plan that will give you twice annual HVAC maintenance and help you save on service and repairs.
Need to schedule maintenance service for your heating system? Contact the team at Nice Heating & Air at (703) 884-2376 today to set up an appointment.
Heating Installation & Replacement in Montclair
Adding heat to a new home or replacing an outdated or damaged furnace? The expert technicians at Nice Heating & Air can help you choose the right furnace to meet your needs. Once we've selected the ideal system for your home, we'll deliver a top-quality furnace installation, so you won't have to worry about a flawed installation costing you money in repairs later.
Contact Nice Heating & Air online today or call (703) 884-2376 to learn more about our heating installation and replacement services in Montclair.
Choose Nice Heating & Air for Montclair Heating Services
Heating systems can be costly and dangerous when improperly handled or in poor condition, so it's important to leave your heating repairs, installation, and maintenance in the hands of professionals you can trust.
By working with the Nice Heating & Air team, you can enjoy superior customer service, top-notch workmanship, and excellent products and materials for whatever heating services you require.
We're always ready to serve you and your family! Call us today at (703) 884-2376 and learn what's made us the most reliable HVAC company in the region!
We Offer Nice & Friendly Service!
Serving Springfield, VA &
the Surrounding Areas
Why Choose NICE?
Professional Service for All Makes & Models
100% Satisfaction Guaranteed
Nice, Neat & Knowledgeable Technicians
Angie's List Award Winner – 7 Years Straight!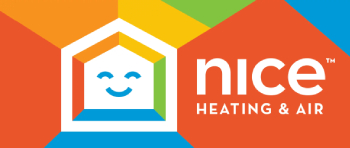 Join Our Cozy Club
Maintenance Plan!
It's the NICEST way to gain comfort.