Nice Heating Installation in Alexandria & Springfield
For all of your heating and furnace repairs and installations, call Nice Heating & Air. We offer dependable services in the Alexandria and Springfield, VA areas.
We might not think about our heating systems until the weather gets cold, but it's important to keep your heating and furnace systems properly maintained all year to ensure they function when you need them. For your heating repairs and installations, call Nice Heating & Air in Alexandria and Springfield, VA.
How a Malfunctioning Heater Can Affect Your Home
When cold temperatures set in, you don't want to be dealing with a malfunctioning heating system. A poor performing heater can have many impacts on your home, including:
A lower temperature in your home, which can cause comfort levels to drop
Your family can become ill, either from too cold of temperatures or from issues caused by the heater, such as carbon monoxide poisoning
Reduced indoor air quality
Risk of fire
An increase in utility bills
We can handle all your heating needs, including tanked and tankless water heater services!
The Most Common Issues With Heating Systems
No one wants to deal with a malfunctioning heating system — especially during the winter — but there are some common problems that heating contractors can help diagnose and repair. Some issues you might experience that require professional services can include:
Uneven heating: If your home is heating unevenly with hot and cold spots, it could indicate that your system is failing.
Shuts down: If your heater shuts off frequently, it could signal faulty wiring, a failing pilot light for gas-powered systems, or a malfunctioning thermostat.
House takes a long time to heat: If your home takes a long time to heat, or if your heating system takes a long time to heat up, it can be a symptom of leaky air ducts, a damaged fan motor, or an issue with the belts and bearings.
When you need a new heating system installed, talk to our experts about your options.
The Top Signs Your Furnace Needs to Be Replaced
Replacing your furnace might not be at the top of your to-do list this year, but there are signs you shouldn't ignore that can signal it's time to install a new unit.
Some of these symptoms include:
Age: If you have an older furnace, it can be more cost-efficient to replace the unit rather than repair it.
Loss of efficiency: If your furnace is no longer properly heating your home — and your utility bills are increasing — it can be time to replace the unit.
Cracked: A crack in your furnace can lead to a carbon monoxide leak, which can be a dangerous situation for your family and your home. One way to detect a carbon monoxide leak is if you notice the pilot light has turned from blue to yellow. If you notice this, you should immediately evacuate your home.
Multiple repairs: If you are frequently having to repair your furnace, it can be more cost-effective to replace the unit.
Professional Heating Installations
Rely on Nice Heating & Air for expert and affordable furnace installation in Alexandria, VA. With a project-by-project approach, we customize our recommendations and services to suit your specific requirements. Meticulous sizing, industry-leading products, and precision installation procedures deliver ideal and rewarding results.
Our highly trained, licensed, and experienced installation technicians are held to exacting standards of service. We recognize your busy lifestyle and the importance of minimizing intrusions. You need the perfect heating system to ensure a warm and welcoming home, no matter what the weather brings, and for the installation to be completed quickly, without unnecessary delays or a giant mess. You need to be kept informed, familiarized with the features and operation of your new equipment, and 100% satisfied with the end result. Nice Heating & Air delivers all that and more. Whether you're installing new or updating old, Nice Heating & Air is the right choice for comfort throughout Alexandria, VA.
When you need a heating system installed or replaced, trust the heating experts at Nice Heating & Air to do the work. Call us at (703) 884-2376 for service in the Alexandria and Springfield, VA areas.
We Offer Nice & Friendly Service!
Serving Springfield, VA &
the Surrounding Areas
Why Choose NICE?
Professional Service for All Makes & Models
100% Satisfaction Guaranteed
Nice, Neat & Knowledgeable Technicians
Angie's List Award Winner – 7 Years Straight!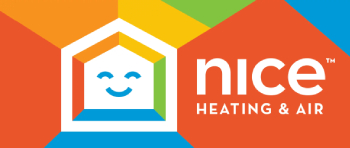 Join Our Cozy Club
Maintenance Plan!
It's the NICEST way to gain comfort.