Nice Heating Repair in Northern Virginia
Serving Northern Virginia & the DMV Area
When your heater malfunctions, you need it repaired ASAP. Call Nice Heating & Air for services in the Alexandria and Springfield, VA, areas.
Sitting in a chilly house in the winter months is not comfortable, and it can be a health risk for your family. Instead of enduring cold temperatures, when your heating system malfunctions, have it repaired immediately.
Call Nice Heating & Air at (703) 884-2376 for appointments in the Alexandria and Springfield, VA, areas. We provide Nice and Friendly service along with upfront pricing!
Furnace Repair Services
A forced-air furnace can make your Virginia home feel nice and comfortable in a hurry, but even the most well-maintained system can develop problems with age and use. When you need a local professional to inspect and repair your furnace, turn to our experts at Nice Heating & Air. We are equipped with the latest tools and equipment to locate the cause of the failure quickly, and we service most furnace brands and models. Our technicians are available for furnace repairs throughout Alexandria and Northern Virginia.
Is your furnace failing, malfunctioning, or just not performing properly? Contact us today at (703) 884-2376 to schedule furnace repairs in the Alexandria area.
Boiler Repair Services
Does your Virginia home have hot water or steam heating system? When you need an expert to repair or service your boiler and related equipment, look no further than Nice Heating & Air. Our technicians have extensive experience servicing boilers, radiators, baseboard heaters, in-floor radiant heating systems, circulation pumps, zoning valves, and more. Whether you have a minor issue or a big problem, we can help with fast, cost-effective boiler repairs.
Call (703) 884-2376 or contact us online to schedule boiler repairs anywhere in Springfield, Lorton, Woodbridge, or the surrounding areas. Our technicians will arrive promptly and make the repair process nice and simple.
Heat Pump Repair Services
When your heat pump is having trouble keeping up with the cold, talk to our HVAC experts at Nice Heating & Air. We can diagnose the problem quickly and recommend the best heat pump repairs for your budget and needs. We service all brands and models of heat pumps, and whether the problem is something simple, like a faulty thermostat, or something major, like a failed compressor, we can complete the repairs swiftly and leave your home clean and comfortable.
Need help with your heat pump in Woodbridge or Lorton, VA? Call our experts today at (703) 884-2376 or contact us online to schedule heat pump repairs.
What Are The Ways a Broken Heater Can Affect Your Home?
A malfunctioning heater can be a nuisance to your home and your family. While the most noticeable issue can be cold temperatures in your home, a poorly functioning heater can also have additional impacts on:
Declining comfort levels as the temperature in your home drops
Risk of illness from too cold of temperatures or from issues caused by the heater, such as carbon monoxide poisoning
Reduced indoor air quality
Risk of fire
Higher utility bills
The Top Signs Your Heater Needs to Be Repaired
When you wake up to a freezing cold house in the middle of winter, you typically know your heater needs to be repaired. But there are other not-so-obvious signs to watch for that can also signal you need to contact a heating repair company. These can include:
Your home doesn't get warmer.
Heat is not being evenly distributed throughout the home, resulting in hot and cold spots.
Your system begins to make loud and unpleasant sounds.
Your monthly utility bills continue to rise without any change in use.
The temperature in your home doesn't match the thermostat settings.
You have leaking ductwork.
Is your furnace malfunctioning? Call us at (703) 884-2376 today for speedy furnace repair services.
Choose Nice Heating & Air for Heating Repair in Northern VA
Through personalized service, we ensure rewarding, cost-effective, and long-term results. Prompt scheduling and punctual arrival across Fairfax County make our services convenient. Equipped with state-of-the-art diagnostics and a full range of quality replacement parts, our certified technicians pinpoint and resolve issues without multiple visits. Plus, we always have a technician at your doorstep within three hours. 
When you need heating repair services, call Nice Heating & Air at (703) 884-2376 for appointments in the Alexandria and Springfield, VA, areas.
Heating Repair FAQs
Do you have more questions about heating systems and repairs in Northern Virginia? Contact the HVAC experts at Nice Heating & Air, and we'll give you the answers you need to enjoy the comfort you desire!
We Offer Nice & Friendly Service!
Serving Springfield, VA &
the Surrounding Areas
Why Choose NICE?
Professional Service for All Makes & Models
100% Satisfaction Guaranteed
Nice, Neat & Knowledgeable Technicians
Angie's List Award Winner – 7 Years Straight!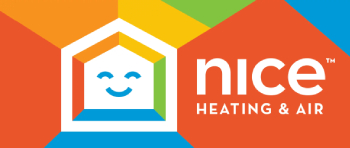 Join Our Cozy Club
Maintenance Plan!
It's the NICEST way to gain comfort.