Air Conditioning Services in Falls Church, VA
As winter takes its leave, it's never been more critical for Falls Church residents to address their air conditioning service needs. By scheduling AC services ahead of the cooling season, you can prevent suffering through the Southern heat with a malfunctioning system. At Nice Heating & Air, our team provides the comprehensive cooling solutions that Virginians need to stay comfortable all summer.
Whether you're looking for air conditioning repair or need a new system installed in a newly constructed home, Nice Heating & Air has the products and services you need to get the job done right.
Bring improved comfort to your home this season by scheduling air conditioning services with our team today!
Signs You Need AC Service in Falls Church
Most AC units only last about 10 years. In Falls Church, 90% of homes were built 20 years ago or longer, which means you could be relying on an outdated system if you haven't replaced your air conditioning since the property was built.
In addition to your air conditioner's age, there are many other signs that can indicate it's time to schedule air conditioning services, including:
Unit blows hot air
Poor airflow
Damaged/inaccurate thermostat
Increased repair requests
Frequent system short-cycling
Broken/frozen air compressor
Foul odors coming from your system
Strange noises emanating from the unit
A sudden increase in energy bills
If you've noticed the signs of a failing system in your home, it's time to schedule AC services with your local HVAC technician. Nice Heating & Air has the expertly trained professionals you need to address all your cooling service requests.
Contact us to schedule air conditioning services in your Falls Church home today!
Our Falls Church Air Conditioning Services
Nice Heating & Air is your one-stop shop for all your air conditioning service needs. Our air conditioning service offerings include:
Air conditioning installation and replacement: Choose from our wide variety of the industry's top-rated systems and have our team professionally install or replace your existing unit.
Air conditioning repair: Our AC repair team has the experience to identify the root cause of any AC issue and deliver the long-lasting solutions you need.
Air conditioning maintenance: Keep your system running smoothly all summer by scheduling routine maintenance with our team ahead of the cooling season.
From ductless mini-split air conditioning to smart thermostats and more, our team has the products and services you need to achieve cooling comfort in your home this summer.
Contact us online to schedule air conditioning installation, replacement, repair, or maintenance today.
Why Choose Nice Heating & Air?
At Nice Heating & Air, we don't just deliver the most advanced cooling solutions available. We take pride in our workmanship and are dedicated to doing everything in our power to ensure your total comfort and happiness with our products and services. When you select our team for AC services, you'll always enjoy peace of mind with the following guarantees:
100% Money-Back Guarantee: If for any reason you aren't 100% satisfied with your AC work, service, equipment, or experience within two years of your installation date, we'll return 100% of your investment.
Comfort Guarantee: If your new air conditioner fails to meet your comfort needs, we'll remove it and replace it with one that will.
Utility Savings Guarantee: We certify that our air conditioning systems will save you at least 20% on your annual energy expenses or we'll write a check for double the difference.
Property Protection Guarantee: If there are any issues caused by our staff during your AC service appointment, we'll pay a professional of your choice to remedy the problem.
Clean Home Guarantee: Our team will leave your home in a cleaner state than when we found it, or we'll pay a cleaning professional to make it right.
No Lemon Guarantee: If an air compressor in your AC system fails within the first 10 years, we'll replace the whole system at no cost.
Stay ahead of your summer comfort needs by scheduling air conditioning services in your Falls Church home before the season settles. Trust Nice Heating & Air to deliver the top-quality cooling solutions you need by contacting our team today!
Schedule AC Services in Falls Church!
From AC repair to energy-efficient system upgrades, Nice Heating & Air has the team you need to address all your cooling service requests.
Contact us to schedule air conditioning services in your home today.
The first thing you may want to do is call an AC technician, but there are some troubleshooting tasks you can do on your own before calling in professional help. Here are some things you can do before calling for an AC checkup:
Replace your air filter: A clogged air filter will reduce airflow and make the system work poorly.
Check your thermostat settings: You will want to make sure that the thermostat is set to cool.
Look at your outdoor AC unit: Ensure there is no brush or debris blocking the AC unit.
If these are not the cause of the problem, give us a call.
Once-a-year maintenance checks for your air conditioning system are ideal.
This will ensure you have solid cooling service for the full year. The best time to request your appointment is in the spring before we hit our peak cooling season in Northern Virginia.
This timing will help you get adequate cooling from the first day.
Size matters when installing an air conditioner. If your air conditioner is too small, it will have to run constantly to keep you comfortable. If it's too large, then it will turn on and off regularly, which can wear it down prematurely.
The right size system will fit your home and your demand, and this requires a consideration of:
The quality of your ductwork, insulation, windows, and doors
How much sun exposure you have
How many people live in the building
Any appliances that generate heat, like your oven
Where you live
Type of material the home is made from
Any features that change your home's indoor temperature, such as a sunroom or fireplace
Always discuss air conditioner sizing with a qualified professional.
We Offer Nice & Friendly Service!
Serving Springfield, VA &
the Surrounding Areas
Why Choose NICE?
Professional Service for All Makes & Models
100% Satisfaction Guaranteed
Nice, Neat & Knowledgeable Technicians
Angie's List Award Winner – 7 Years Straight!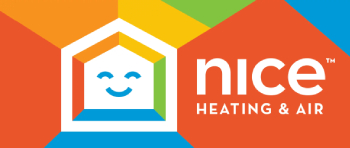 Join Our Cozy Club
Maintenance Plan!
It's the NICEST way to gain comfort.
Customers With a NICE Experience
Customers With a NICE Experience
"Five stars--could not be happier!  Josh and Kyle were very professional, provided several options to improve performance of HVAC, no pressure or time constraints, worked efficiently, were able to explain in clear terms what they found, including when items were performing in fine fashion and nothing needed to be done.  Thanks for a happy camper"
"Service was outstanding from the time of arrival which you could track arrival time live on a website link they send you so you know when they will arrive. Technical knowledge was very high, quick and efficient Kyle and his partner both handled the install of a Sensi Predict as if it was a walk in the park. I highly recommend Kyle from Nice Heating & Air for all HVAC issues and for new installs, him and his team are an amazing company and will think of them first if any issues arise in the future for sure...."
"Professional and polite. Excellent communication throughout the maintenance visit. Definitely recommend."
"Rolando Medrano was very professional and followed the CDC protocol of 6 feet social distance and had a mask and put disposable shoe covers before entering the house. He made sure to address all of our issues and provided answers for all our questions. He came on time and called before he came to update on timing and his status! He was a great help!"
"Highly recommend Nice Home Services for your HVAC needs. Have been member of their annual maintenance plan for three years now and been extremely pleased with their approach to business. They are professional, knowledgeable, and relatable. The service specialists take their time to fully diagnose the issue and explain the situation in a way that is easy to understand. Never had an instance where they try to push product and instead look for ways to recommend how to save you money. Need anything done on your home's HVAC, call the folks at Nice Home Services and know you're making the right choice."
"Love , Love the NICE Heating & Air company for their kind & trustworthy technicians, their unbeatable price & overall knowledge they've amazed me every time with their fabulous job on my house, I'll recommend them without hesitations, try this company you won't regret for sure."
"Dionte and his helper (Josh) did a superb job with the installation. The result is both functional and as cosmetically pleasing as the ideal water heater installation can be. They were VERY careful moving the old one out and the new one in so as to assure no damage was initiated neither to the heater nor to our dwelling. He explained his intended design prior to execution and executed it flawlessly. This was followed by a comprehensive explanation of the functional options available through the control panel and Ipad app. Cleanup at conclusion of the install was appropriate and comprehensive. This team represented both Nice Heating and Rheem VERY positively!"
"I had the pleasure of meeting another NICE Heating and Air Service Technician today, Mr. Jeremy Castellon. Jeremy, thank you again for addressing my questions and concerns regarding my gas fireplace. I appreciate your patience and knowledgeability about gas fireplaces. Jeremy was very professional and competent."
"The technician was very professional and took his time to explain the issue and how he will about to fix it. He also offered means to save by signing on their maintenance program. He was polite, careful to keep the carpet clean. I will recommend this company to friends and family."
"Loves me some NICE Home Services! I've been part of their maintenance plan for almost 9 years now & they're great. Reliable, professional, & friendly; they take care of all my HVAC & gas fireplace needs m, including a spring & fall tuneup. Highly recommend!"
"I purchased my HVAC unit a year ago along with a Cozy Club maintenance plan. It's been running great and the customer service team is always quick to respond to questions. Today Rolando M. came by for the maintenance check and, as usual, he was neat, professional and maintained the COVID rules. He was also very nice, living up to the company name. I'm very happy with my experience with Nice."
"I can't speak highly enough of this company. I requested an appointment, and it was scheduled for the next day. The technician was polite, honest, and a pure delight to work with. He didn't try to overcharge or tell me to replace something I didn't need to. He made service recommendations that were in line with industry standard prices so I could make an informed decision as he went about his service visit. Would recommend and will be using them again in the future. "
"My technician arrived promptly at our appointed hour. He repaired a dirty and non-working gas fireplace. In addition, he found a small gas leak on our furnace line. Overall, exceptional service and quality work. I highly recommend their HVAC service."
"Very impressive company! Nice responded to my call for a heating issue on very short notice. My tech, was right on time, extremely polite, and very hardworking. Customer service and satisfaction are clearly a priority."
"They treat customers like a valuable asset, not like a number. Business the old-fashioned way, that will never go out of style."
"Superb customer service. Before a service appointment, you receive a text message notification with photo of the tech that will be at your residence followed by a phone call. During a service appointment you'll updated and educated. If there is a concern, management will contact you promptly and follow up until issue resolved. Awesome and attentive team!!"