Newington Air Conditioning Services
Is your Newington air conditioner struggling to keep your home comfortable? Has it been more than a year since your last AC tune-up? Whatever the cause of your home discomfort may be, Nice Heating & Air has comprehensive cooling services available to set the problem right in no time.
Trust Nice Heating & Air to get the job done right. Contact us to schedule air conditioning services in your Virginia home today!
AC Repair in Newington, VA
There's no worse feeling than being stuck in stifling heat without a properly functioning air conditioner. We'll help identify the root cause of some of the most commonly seen symptoms of needed AC repair, including:
Insufficient airflow
Hot air blowing from your unit
Unexpected spikes in utility spending
Unpleasant odors coming from AC vents
Strange noises emanating from your system
Refrigerant leaks
And much more!
When your air conditioner fails, there's only one team you need to call in the Newington area: Contact Nice Heating & Air to schedule air conditioner repair today!
AC Installation & Replacement in Newington
When your air conditioner receives proper maintenance, it can last about 10 years from the date of installation. Nearly every home in Newington was built more than 10 years ago, meaning it's likely that you have an outdated air conditioner on your hands — especially if it hasn't been replaced since the property was built. At Nice Heating & Air, our air conditioning installation crew offers a wide variety of top-quality AC systems, including ductless mini-split units, heat pumps, and central air conditioning.
Whether you have an existing system that requires replacement or are installing AC for the first time, Nice Heating & Air has you covered. Regain cooling comfort in your home by scheduling air conditioning installation and replacement services with our team today!
Newington AC Tune-Ups
Our HVAC technicians strongly recommend scheduling annual air conditioning maintenance once before every cooling season. Just one appointment can help keep your manufacturer warranty active while also providing the following system benefits:
Extended system life span
Improved home comfort
Increased unit efficiency
Savings on energy expenses
Avoided repair costs by catching issues earlier
We also offer our customers the opportunity to join our exclusive Cozy Club for continued savings on all their year-round HVAC service needs.
If it's been more than a year since your last AC tune-up, schedule air conditioning maintenance with Nice Heating & Air today!
Why Call Nice Nice Heating & Air?
When it comes to providing exceptional air conditioning services, we don't stop at simply offering the latest and greatest systems. We are committed to delivering an unparalleled level of customer care from the moment you call our team. When you select our team for service, you'll always receive:
100% satisfaction guaranteed
Nice, neat, knowledgeable technicians deeply familiar with Newington home systems
On-time, convenient service appointments
Discover why our team has been an Angi Super Service Award winner for seven years straight: Contact Nice Heating & Air to schedule air conditioning services in Newington today!
Schedule AC Services in Newington
No matter your cooling service needs, our team has the services and systems available to address them in no time. From air conditioning repair to exclusive savings through our Cozy Club, there's no better team for your AC service needs than Nice Heating & Air.
Contact us to schedule air conditioning services for your Newington home today!
We Offer Nice & Friendly Service!
Serving Springfield, VA &
the Surrounding Areas
Why Choose NICE?
Professional Service for All Makes & Models
100% Satisfaction Guaranteed
Nice, Neat & Knowledgeable Technicians
Angie's List Award Winner – 7 Years Straight!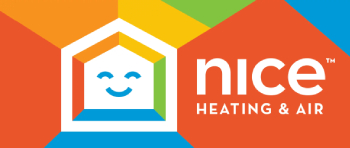 Join Our Cozy Club
Maintenance Plan!
It's the NICEST way to gain comfort.