Choosing the Right Heating and Cooling System – Nice Heating & Air
Customize a heating and cooling system that is perfect for your family and your home. Choose your HVAC replacement depending on features that provide solutions for your individual needs: efficiency, quiet operation, warranty, reliability, and comfort.
Energy Efficient
When choosing the most efficient furnace, look for a minimum of 90% AFUE
When choosing an efficient air conditioner, take a look at units of at least 15 SEER
Efficient heat pumps should be at no less than 9.50 HSPF
Other useful features include: variable speed motor, multi-stage operation, AHRI-matched systems
What Is Multi-stage Operation?
Adjustable heat output based on indoor and outdoor temperatures, instead of being "on" or "off"
Multi stage compressors are like having two air conditioners in one. The first stage of cooling will run when temperatures are mild, using less energy but running more often to keep you comfortable
During extreme outdoor temperatures the equipment will use the second stage, but as a result of the higher seer rating, the unit will still operate more efficiently than a standard system
Comfort
Variable speed motors
Humidity control year-round
Small monthly electric bills
Cven cooling and heating through out the home
Quiet operation
Heating
Quiet combustion technology
Smaller BTU inputs per burner
Progressive start up to avoid whooshing air and duct work popping
Protected and insulated cabinets to block sound
Cooling
Sound reduction technology
High-level fan blades
Heavy-duty sound blankets for compressors
Reliability
Look for extended labor warranties
Ten-year limited warranties on parts
Lifetime limited warranties on heat exchangers
Choose a contractor that provides extended maintenance programs
We Offer Nice & Friendly Service!
Serving Springfield, VA &
the Surrounding Areas
Why Choose NICE?
Professional Service for All Makes & Models
100% Satisfaction Guaranteed
Nice, Neat & Knowledgeable Technicians
Angie's List Award Winner – 7 Years Straight!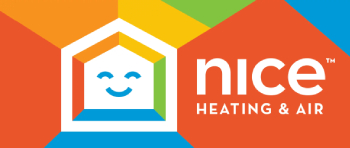 Join Our Cozy Club
Maintenance Plan!
It's the NICEST way to gain comfort.