Arlington Heating & Furnace Repair
When Old Man Winter is knocking at your door, are you ready for battle? Call Nice Heating & Air to make sure your heater is up to the task!
Here in Arlington, VA, winters can get brutal, which is why you need a furnace you can rely on to keep your family comfortable and safe all winter long. If your furnace hasn't been well, or if it suddenly fails, call us for our nice and friendly heating repair service and let us get your system working as quickly as possible.
Interested in who we are? Check out our About Us page and then call (703) 884-2376 for an appointment.
Is Your Furnace Trying to Tell You Something?
No one likes the thought of their furnace or heater going out in the dead of winter, but unfortunately, it happens all too often. However, your furnace usually gives out plenty of warning signs telling you it needs repair or replacement. Here's what to look out for:
Air coming out isn't hot enough
Furnace cycles on and off too frequently
Furnace emits strange sounds such as grinding or squealing
Furnace emits foul odors
The desired temperature can't be met or maintained
These are all telltale signs your furnace is failing. Call a heating repair company at (703) 884-2376 at the first sign of trouble!
How to Keep Your Furnace in Tip-Top Shape
The key to keeping your furnace efficient and running faithfully for a long time is routine maintenance. Here are a few things you can do to ensure your furnace provides you with years of service.
Replace filters once a month
Keep your blower clean
Ensure the ducts are free from obstruction
Keep vents clear
Call a pro and ask for heating tune-up and maintenance service
Still not sure we're the right heating repair company to call? Check out our customer reviews to see what your neighbors think.
When to Call a Heating Contractor
Call a professional for prompt heating repair when:
Your pilot light won't stay lit
You smell gas
Your heater or furnace isn't putting out hot air
Your furnace won't turn on
Don't panic if your furnace suddenly stops! Call Nice Heating & Air in the Arlington, VA area at (703) 884-2376 for heating repair.
We Offer Nice & Friendly Service!
Serving Springfield, VA &
the Surrounding Areas
Why Choose NICE?
Professional Service for All Makes & Models
100% Satisfaction Guaranteed
Nice, Neat & Knowledgeable Technicians
Angie's List Award Winner – 7 Years Straight!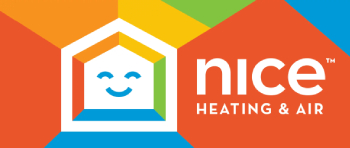 Join Our Cozy Club
Maintenance Plan!
It's the NICEST way to gain comfort.