Water Softeners in Northern Virginia
Do you have hard water in your home? If you have trouble washing dishes, experience skin irritation, or have poor water flow, you may be in need of water softener installation or replacement. Mineral-rich water can wreak havoc on your plumbing system and make it more difficult for you to perform daily hygienic activities. At Nice Heating & Air, our team offers the water softener installation and replacement services that Northern Virginia families need to access higher-quality, better-tasting water in their homes.
Eliminate hard water issues from your Northern Virginia home in no time: Contact Nice Heating & Air to schedule water softener installation service with our team today!
What Is a Water Softener?
Hard water is a common issue that many Northern Virginia families experience. This water is rich in minerals that can build up over time on your plumbing fixtures, causing them to become damaged, raise your energy bills, and more. A water softener is a special type of water filtration system that eliminates these hard minerals from your water supply. The filtration system works by filtering out the minerals and softening the water supply to allow easier flow throughout your plumbing system.
Do you suspect that hard water is affecting your home's plumbing performance? Contact Nice Heating & Air to schedule water softener installation service in Northern Virginia today.
Do I Need a Water Softener in My Northern VA Home?
While hard water is a common issue, it's not always the root cause of what is negatively affecting your plumbing problems. Homeowners can tell if hard water is the culprit by watching out for the following signs:
Mineral buildup around plumbing fixtures
Soap scum on bathtubs, curtains, or shower doors
Failing water heater elements
Dry, itchy skin
Dull, scratchy clothing
Spots on dishes, flatware, and glasses
If you've noticed any signs of hard water affecting your home, it's time to schedule water softener installation or replacement with Nice Heating & Air. Contact our team at (703) 884-2376 to schedule today.
Water Softener Installation & Replacement
Eliminating minerals from your home's water supply is a breeze with the right equipment in place. At Nice Heating & Air, we carry top-rated water softener systems from the industry's most trusted manufacturers. Our team is proud to offer the following water softener services throughout the Northern Virginia region:
Water softener installation: Choose from our selection of top-quality water softener systems, and let our team professionally install a new system in your home.
Water softener replacement: Remove your outdated water softener system and swap it out for one of our state-of-the-art replacement units.
Whatever your water softener needs may be, our team has the skills and systems necessary to bring better-tasting and -feeling water to your home in no time.
Contact us to schedule water softener installation or replacement in your home today!
Schedule Water Softener Installation in Northern VA Today
From installation to full system replacement, the team at Nice Heating & Air can handle any of your water softener needs. We will expertly eliminate the minerals that are negatively affecting your plumbing system in no time using our top-quality systems and solutions.
Ready to rid your home of hard water? Contact our team to schedule water softener installation or replacement service in Northern Virginia today.
When your hard water passes into a water softener's tank, it moves through sodium resin beads.
The hard water minerals end up being exchanged for a small amount of sodium, resulting in water that no longer clogs fixtures and drains, leaves dishes, clothes, and hair dirty, or gums up the works of your water-using appliances.
The system will go through regeneration cycles to flush out the hard water mineral ions it accumulates and recharge the resin beads with the sodium ions they need to keep the exchange process going.
Your water heater needs routine cleaning and will need salt refills from time to time to allow it to continue the process of exchanging hard water minerals for sodium.
If you're part of the Cozy Club or schedule a maintenance visit with Nice, we'll take care of everything for you so you can enjoy soft water without worrying about all the technicalities involved.
A water softener aims to fix a single problem with your water: too much calcium and magnesium. A water softener will exchange those unwanted minerals with sodium, which causes far less trouble for your plumbing, appliances, cleaning, and hygiene.
On the other hand, a water filtration system seeks to remove harmful, bad-tasting, or otherwise unwanted contaminants from your water to leave it as clean as possible. A water filtration system is a perfect solution if you want to get lead, chlorine, bacteria, and other harmful compounds out of the water you drink in your home.
If you want both soft and clean water, you'll want to use both in combination to service your water because they do different things.
We Offer Nice & Friendly Service!
Serving Springfield, VA &
the Surrounding Areas
Why Choose NICE?
Professional Service for All Makes & Models
100% Satisfaction Guaranteed
Nice, Neat & Knowledgeable Technicians
Angie's List Award Winner – 7 Years Straight!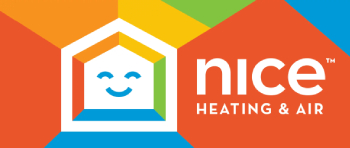 Join Our Cozy Club
Maintenance Plan!
It's the NICEST way to gain comfort.