Furnace Installation in Alexandria & Springfield
For gas, electric and oil furnace installation and replacement, call Nice Heating & Air. We service the Alexandria and Springfield, VA areas.
Needing to have your furnace replaced can be stressful as you determine your budget and the type of furnace to install. Let the furnace contractors at Nice Heating & Air help! Our experts can help you determine which make and model of furnace best fits your needs, whether it's gas, electric or oil. Call Nice Heating & Air to schedule an appointment in the Alexandria and Springfield, VA areas.
The Top Signs Your Furnace Needs to Be Replaced
Let's face it, replacing your furnace isn't likely to be at the top of your to-do list this winter. However, having a functioning furnace is a necessity in the winter months — both for the health of you and your family, and the health of your home. Before your furnace breaks down unexpectedly, watch for these signs that can indicate your furnace needs to be replaced:
Age – If you have an older furnace, it can be more efficient and cost-effective to replace the unit.
Loss of efficiency – If it's taking too long to heat your home, it can signal your furnace is losing efficiency and it needs to be replaced.
Cracked – If you have any cracks in your furnace you need to replace the unit as it can create a dangerous situation for you and your family. If you have a crack, you should leave your home immediately.
Rise in monthly utility bills – If your utility bills are increasing – and your usage hasn't changed — it can indicate that your furnace is not operating efficiently. It can be more cost-effective to install a newer model.
Multiple repairs – If you have to frequently repair your furnace, it can make more sense to replace the unit rather than paying to keep fixing it.
What Are The Advantages of Installing a New Furnace?
There are many advantages to installing a new furnace. In addition to providing assurance that your furnace isn't likely to breakdown unexpectedly during the middle of winter, there are also these benefits:
Updates – New furnaces come with updated technology and features that can make the unit perform better than older furnaces.
Higher efficiency – New furnaces are more energy-efficient, consuming up to 30 percent less fuel than older systems.
Quiet – Newer models of furnaces make less noise than older furnaces.
Even and consistent heating – Newer furnaces operate more efficiently, providing even heating throughout your home.
Contact us today to see how our experts can handle all of your heating services, from repairs to installations.
Not yet ready to replace your furnace? Learn about our furnace repair services.
Most Common Furnace Issues
From time to time, you will need to call a furnace repair company to service your unit. Some of the most common problems with furnaces can be caused by the following:
Lack of maintenance: Failing to have your furnace serviced regularly can lead to a number of issues with your unit that professionals can diagnose and repair.
Dirty or clogged filters: Neglecting to change your furnace filters frequently can cause dust, dirt and other debris to accumulate in your furnace. This can cause the system to malfunction and lead to poor air quality.
Mechanical wear and tear: Your furnace will start to develop more frequent issues as it ages. When this happens, it can be more cost-effective to replace the unit instead of continuing to repair the older furnace.
Malfunctioning thermostat: You will need a furnace contractor to inspect your furnace and thermostat if the temperature in your home does not match the thermostat settings.
Inadequate airflow: Your furnace can overheat if you have disrupted airflow.
Carbon monoxide leak: Carbon monoxide leaks can be very dangerous and should be treated immediately. These can be caused by cracks in your furnace. If the pilot light in your furnace has turned from blue to yellow, there is an excessive amount of condensation on your windows, or if you or anyone in your household starts to feel ill, you should evacuate your property immediately.
When you need your furnace replaced or installed, call Nice Heating & Air at (703) 884-2376 for appointments in the Alexandria and Springfield, VA areas. We offer upfront pricing and accurate services!
We Offer Nice & Friendly Service!
Why Choose NICE?
Professional Service for All Makes & Models
100% Satisfaction Guaranteed
Nice, Neat & Knowledgeable Technicians
Angie's List Award Winner – 7 Years Straight!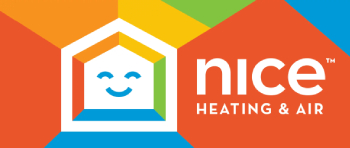 Join Our Cozy Club
Maintenance Plan!
It's the NICEST way to gain comfort.
Serving Springfield, VA &
the Surrounding Areas