Nice Heat Pump Services
Serving Northern Virginia & the DMV Area
You need your heat pump functioning well all year round. When you have an issue, don't delay before getting it repaired. Call Nice Heating & Air for service in the Alexandria and Springfield, VA areas.
Your heat pump serves a function in your home in both the winter and summer months. While it heats your home in the winter, it also helps remove the heat from your house in the summer. That's why you can't afford to have your heat pump malfunction at any point throughout the year. Whether you need a repair or replacement, Nice Heating & Air can handle the task. Call us for service in the Alexandria and Springfield, VA areas.
Is your air conditioner failing to cool your home? Learn about our air conditioning repair services.
How Heat Pumps Work
When looking for a new heating and cooling system for your home, you might not immediately think of a heat pump. However, heat pumps can solve both your heating and cooling needs. These systems compress and decompress gas to cool or heat your home. During winter, the heat pump extracts heat from the groundwater or air to warm your home. In the summer months, the system pumps heat out of your home to cool it off.
Heat Pump Installation & Replacement
Are you ready to install a heat pump in your Alexandria home? Whether you are replacing an older model or installing an all-new heat pump, you can count on our team at Nice Heating & Air for a first-class, professional heat pump installation. Our experts will evaluate your home, calculate its heating and cooling needs, and recommend the best heat pump for your needs and budget. Our skilled technicians will leave your home nice and comfortable; we will make sure our work area is clean and tidy before we leave, and we will dispose of any equipment that we remove.
To schedule your heat pump replacement or installation in the Alexandria area, call (703) 884-2376 today or contact us online.
Benefits of Installing a Heat Pump
There are many advantages to installing a heat pump in your home. Some of the benefits include:
Energy efficiency: Because heat pumps use a renewable energy source, they are highly efficient. This can result in lower utility bills.
Incentives: Because heat pumps are energy-efficient, you can potentially receive a renewable heat incentive from the government. This can give you a monetary bonus and will also diminish your carbon footprint.
Improved air quality: Heat pumps can improve the indoor air quality in your home. These systems don't create smoke or add any fumes to your house. Also, the filters purify the air while removing dust, mold spores, odors, dirt, and other particles.
Safety: Heat pumps can be safer than other heating systems.
Climate control: Heat pumps allow you to have maximum control over your home's climate.
Tax rebates: You might qualify for possible tax rebates by installing a heat pump.
When your heater malfunctions contact our experts to ask about our heater repair services.
Heat Pump Repair & Maintenance
When you need an HVAC expert to keep your heat pump in prime operating condition, look no further than our team at Nice Heating & Air. We offer comprehensive heat pump repairs and heat pump maintenance, with technicians that are experienced, certified, and ready to help with all your heating and cooling needs.
Our team is available to help with any heat pump problem you may encounter, and with our skilled technicians and fully stocked service vehicles, we can solve most issues quickly. For the ultimate protection for your heat pump, consider our convenient Cozy Club service plans. With attractive monthly costs, they include remote or in-person maintenance, priority scheduling, discounts on repairs, and more.
Call (703) 884-2376 or contact us online for heat pump repairs or maintenance anywhere in Northern Virginia!
What Makes Heat Pumps Energy-Efficient?
One of the advantages of installing a heat pump system in your home is its energy-efficiency capabilities. But what makes heat pumps energy-efficient? Some of the reasons include:
Heat pumps move heat instead of generating it. Because of this, their operating costs can be as little as 25% of the cost to operate a traditional heating or cooling system.
Heat pumps only use a small amount of electricity to transfer hot and cold air.
Heat pumps let you change the temperature in a room, or even switch from heating to cooling, by pushing a button.
Heat pumps only take a few minutes to cool or heat a room.
When your heat pump needs to be repaired, replaced, or installed, call Nice Heating & Air at (703) 884-2376. We provide service to the Alexandria and Springfield, VA areas.
Heat Pump FAQs
We Offer Nice & Friendly Service!
Serving Springfield, VA &
the Surrounding Areas
Why Choose NICE?
Professional Service for All Makes & Models
100% Satisfaction Guaranteed
Nice, Neat & Knowledgeable Technicians
Angie's List Award Winner – 7 Years Straight!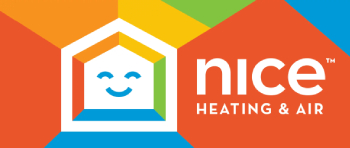 Join Our Cozy Club
Maintenance Plan!
It's the NICEST way to gain comfort.