Some things become more special with time. Your old furnace is not one of them!
Some things get more special as they get older, like a special toy or a family treasure. But when it comes to your furnace, being old is not always good. 
We invite you to enter our Vintage Furnace Contest, where you can win a brand new Rheem gas furnace and installation valued at up to $5031.
And the best part is that a NICE technician will come to your house for FREE to check your furnace and ensure it's safe and working well.
To enter the contest, you must live in the NICE Heating & Air service area and own the house you're entering. We want to make sure the person who wins really needs and can use the prize.
We know your old furnace is special to you, but it might not be as good as a new one and could be dangerous. By entering our contest and getting your furnace checked, you can win a new one and make sure your house is safe and uses less energy.
Don't miss your chance to make your house nice and cozy for years. Receive up to $500 OFF a new heating system just for entering.
To enter, fill out the form. If you choose to, include a brief description of its age and any interesting stories or history you have about it. We'll choose the winner based on the oldest furnace and showcase the winning furnace on our website and social media pages.
(See the contest rules below for complete details.)
Check Out Our Recent Winners
Nice Vintage Furnace Contest Rules
HOW TO ENTER
The official Nice Heating & Air Vintage Furnace Contest ( "Contest")  will begin on Wednesday, January 4th, 2023.  All contest entries must be received by 5:00 pm ET on Wednesday, March 15, 2023
To participate in the Contest, submit the online entry form below. All required fields must be completed to constitute a valid entry. To be eligible to participate in this contest, all individuals must complete the official entry form before their scheduled appointment.
The winning entry must be for a home located within the Nice Heating and Air service area. A list of cities within our service area can be found on our website.
The furnace unit must be in use and working condition.
All eligible entrants must be 21+ and own and occupy the home in which the old furnace is located.
All entrants must schedule a FREE system check provided by a Nice Heating & Air technician to verify the age of the furnace unit. The check must be completed before 5:00 PM ET on Friday, March 22, 2023. All decisions made regarding the unit's age made by Nice Heating & Air will be final.
Multiple entrants are not permitted to share the same email address. Entries submitted may not be acknowledged or returned.  Proof of submission of an entry shall not be deemed proof of receipt by the Contest administrator.
Entrants may submit one entry form per house.
Entrants will be required to complete the full online entry form, including first and last name, a valid email address, phone number, street, city, and zip code in which the home resides. Nice Heating & Air, in its sole discretion, reserves the right to disqualify any entrant that does not complete the online form in full. 
ELIGIBILITY RESTRICTIONS
Furnace must be a forced-air heating system.  Forced hot water/boiler systems are not eligible.
The furnace unit must be in use and in working condition.
All eligible entrants must own and occupy the home in which the old furnace is located.
The Contest is open to homeowners who are 21 years of age or older as of the date of the entry of the Contest, who are legal US residents, and who submit an entry for a home located in within the Nice Heating and Air service area.
Winners must possess a valid ID to show proof of residency.
Nice Heating & Air employees and their immediate family members are not eligible to enter the contest. 
Any individuals who have already purchased a furnace are not eligible to participate in this contest. No refunds will be issued to individuals who have already purchased equipment, and these individuals will not be eligible for any discounts or refunds in connection with this contest.
PRIZES
One prize will be awarded to the winning entrant. The prize consists of a single zone Rheem brand gas furnace unit, including delivery and installation as described below.  The approximate retail value of the prize is up to $5031.
Removal of existing equipment. Reconnect to existing ductwork, make an airtight plenum transition, and seal all new ducts with mastic.
Reconnect electrical ( Not responsible for the condition of existing electrical lines).
Reconnect the condensate drain system ( Not responsible for the condition of the existing condensate drain. )
Meet all code requirements, including pulling all necessary permits and helping to arrange inspections when possible.
Complete system check, test, and start-up.
The manufacturer provides a 10-year parts warranty to the original winner only.
Accessories carry a 1-year parts warranty only.
Nice Heating & Air will provide a 1- year labor warranty with the installation.
SELECTION OF WINNER
The winner will be selected based on the oldest verified furnace unit recorded by Nice Heating & Air.
The winner will be notified by phone by March 25, 2023.
The odds of winning depend on the number of eligible online entries received during the entry period.
The winner must confirm acceptance of the prize within 5 days of notification.
The prize is non-transferable and may not be redeemed for cash.
Decisions of Nice Heating & Air concerning the Contest are final.
The winner is solely responsible for any cost(s) associated with building or construction permits required by any applicable federal, state, or local law or regulation and any tax liabilities resulting from accepting the price.
CONDITIONS
Nice Heating & Air reserves the right to end any contest or amend rules upon announcement by publication at nicehomeservices.com/contest.
Copies of the written contest rules and the winner are available during regular business hours at Nice Heating & Air main office: 8245 Backlick Road, Unit A Lorton, VA 22079
By entering, you give Nice Heating and Air permission to use any photos, videos, or testimonials that we may take or collect from you in the future, for marketing and advertising purposes, including but not limited to use on our website and social media pages.
Code Compliance Upgrade Exclusion: The prize for this contest includes the installation of a new Rheem gas furnace only. Any upgrades that may be required to bring the winner's existing electrical or venting systems up to current code requirements are not included in the prize and must be purchased separately. This includes, but is not limited to, upgrading existing electrical wiring or venting systems, to ensure that the home is safe and up to code. The winner will be responsible for any additional costs associated with code compliance upgrades and must comply with all local building codes and regulations.
DEADLINE: FRIDAY, MARCH 15, 2023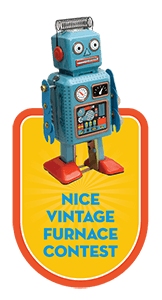 SERVING HVAC SERVICES IN LORTON, VA AND SURROUNDING AREAS