Nice Air Cleaning & Filtration Services
It's important to have clean air in your home to keep your family healthy. Call Nice Heating & Air for air filtration system installation in the Alexandria and Springfield, VA areas.
One of the most important issues that affect your home every day is the quality of the indoor air. Residential homes are tightly sealed against the outdoors for reasons of energy efficiency and climate control, and this often leads to stuffy, stale air that may recirculate contaminants throughout the ductwork. The air inside your home may actually be more polluted than the outdoor air with stuff you can't see like viruses, bacteria, mold, dust, and chemicals!
It is our pleasure to help you breathe easier. We invite you to call Nice Heating & Air at 703-884-2376 to discuss the air purification products we recommend for your family that will keep the air within your home nice and clean.
Types of Air Quality Products
Nice Heating & Air offers a number of options and products to improve the quality of the air inside your home:
Are there specific issues in your home that are taking your breath away? Call Nice Heating & Air at 703-884-2376 to speak with our teams about the solutions we offer that can help you breathe easier throughout the year.
Benefits of Installing an Air Cleaner in Your Home
There are many benefits of installing an air cleaner in your home, for both the health of you and your house:
Reduced allergens – This can improve the health of everyone in the home who suffers from allergies.
Improved overall air quality – Removing allergens, germs, and humidity from the home can benefit those with asthma.
Lower humidity – Removing moisture from the air can make the house more comfortable.
Cleaner smell – Air cleaners can remove odors from the home.
Cigarette smoke dispersion – If there is a smoker in the household, air cleaners can help disperse the cigarette smoke from the home.
Depletion of airborne bacteria and germs – Air cleaners can remove bacteria and germs from the air that can result in colds and flu.
Types of Air Purifiers
When you decide to install an air cleaning system in your home you have many options. Some of the most common systems are:
Whole-house systems: These systems provide consistent air quality control throughout your entire home.
Portable air purifiers: These systems are less expensive than whole-house units, but they are also less powerful.
Ozone generators: These systems clean the air in your home while producing oxidation properties that will safely and effectively control indoor air pollutants.
Are you wondering which air purifier is best for your Virginia home? Contact Nice Heating & Air at 703-884-2376, and we'll give you the nice and easy answers you need to make the best choice for your comfort.
What Kinds of Filters Are Used in Air Cleaning Systems?
One of the key components of your air cleaning system is the filter. The right kind of filter can help improve the air quality in your home. There are many types of filters you can choose for your system:
Ionic: Ionic filters generate negative ions that capture positive ions, such as dust and allergen particles. These cost-effective filters work best for smoke reduction.
HEPA: HEPA filters were originally developed to remove radioactive dust particles from the air. Now, these are used to reduce contaminants from the air, such as mold, dust-mite debris, pet dander, bacteria, and pollen.
UV: Ultraviolet light air filters destroy microorganisms. These filters perform best when preventing illness and disease.
Carbon: Carbon is the most absorbent filter. It reduces odors and fumes without releasing any contaminants back into the air.
Improve your home's air quality with air cleaners and filtration system services. Call Nice Heating & Air at 703-884-2376 for installation services in the Alexandria and Springfield, VA areas.
Air Cleaning & Filtration FAQs
We Offer Nice & Friendly Service!
Serving Springfield, VA &
the Surrounding Areas
Why Choose NICE?
Professional Service for All Makes & Models
100% Satisfaction Guaranteed
Nice, Neat & Knowledgeable Technicians
Angie's List Award Winner – 7 Years Straight!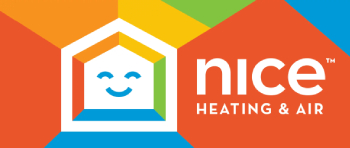 Join Our Cozy Club
Maintenance Plan!
It's the NICEST way to gain comfort.