Nice Attic Insulation in Northern VA
Save money and stay comfortable with expert attic insulation by your local HVAC experts.
You pay a lot of money during the winter and summer months to keep your home comfortable through heating and cooling systems. If your attic isn't properly insulated, it can be difficult to keep your home at the desired temperature. When you need your attic insulation repaired, installed, or replaced, call Nice Heating & Air for service in the Alexandria and Springfield, VA areas.
Why It's Important to Properly Insulate Your Attic
Properly insulating your attic will help protect your home and your finances. Insulation can seal any gaps or cracks that can allow moisture or heat into your attic. It can also help reduce your utility bills in the summer months by keeping the cool temperatures inside your home and not letting the cool air drift out through the attic. Other advantages include combating issues with air quality in your home, removing humidity, and blocking out exterior noise pollution.
Most Common Types of Attic Insulation
When insulating your attic, you have many choices for the type of insulation to use, and the process for applying it. Some of the most popular types of insulation are:
Signs Your Attic Insulation Needs to Be Repaired or Replaced
It can be difficult to visually look at your attic insulation and determine if it needs to be repaired or replaced. After all, how often are you up in your attic? Fortunately, there are signs you can look for in the main area of your home that indicate you need to have a professional inspect your attic insulation:
Varying indoor temperatures: Poor insulation can prevent your home from being properly heated or cooled as outdoor air enters, changing the comfort levels of your house.
Increasing utility bills: Higher energy bills can indicate your attic insulation needs to be inspected. Poor insulation can cause your air conditioner or heating system to overwork, using more energy.
Wet insulation: If you notice you have wet or moist insulation, it's necessary to replace the insulation. Wet insulation can cause mold to grow, which can release toxins into the indoor air in your home.
Drafts in your home: If you notice drafts in your home, it can indicate you don't have proper insulation in your attic, which is allowing air to enter your home.
Save Energy With a Professional Insulation Installation
Save energy, cut monthly costs, and improve comfort in your home with attic insulation services from Nice Heating & Air. The right amount of quality insulation can make a major difference, combating problems with air quality, humidity, and exterior noise pollution. The majority of homes across Fairfax County have inadequate levels of insulation and suffer from significant air leaks. With prompt, convenient, and affordable service, the experts from Nice Heating & Air analyze attic insulation levels, make knowledgeable recommendations, and provide effective resolution. We take a personalized approach, addressing your specific situation, and deliver rewarding results.
Rely on Nice Heating & Air to get the job done right, safely, and to exceptional standards of quality. All projects are completed quickly, without mess, intrusion, or damage, and we specialize in a variety of proven products and solutions to resolve any challenge. Let us help you save money and improve the overall energy efficiency of your residence.
Having a properly insulated attic can save you money on utility bills and prevent your heating and cooling systems from overworking. For all of your attic insulation needs, from repairs to installations and replacements, call Nice Heating & Air at 703-884-2376 for appointments in the Alexandria and Springfield, VA areas.
Attic Insulation FAQs
Do you have more questions about insulation in Springfield, Lorton, Woodbridge, or Alexandria, VA? Contact Nice Heating & Air at 703-884-2376, and our team will be happy to show you why your friends and neighbors call us the nicest and most knowledgeable insulation installation team in Northern Virginia.
We Offer Nice & Friendly Service!
Why Choose NICE?
Professional Service for All Makes & Models
100% Satisfaction Guaranteed
Nice, Neat & Knowledgeable Technicians
Angie's List Award Winner – 7 Years Straight!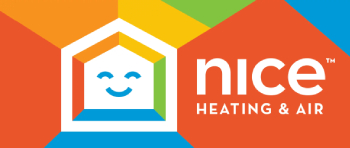 Join Our Cozy Club
Maintenance Plan!
It's the NICEST way to gain comfort.
Serving Springfield, VA &
the Surrounding Areas