Heating & Furnace Repair in Fairfax, VA
Here in Fairfax, VA, the temperatures frequently drop below freezing during winter, which is why it's essential for the health and comfort of your family that your furnace works day and night all winter long. At Nice Heating & Air, our award-winning service is second to none in the area and we guarantee you'll be happy if you trust us as your 'go-to' furnace service company.
If you're still on the fence about hiring us, check out what your neighbors are saying at our customer reviews page and then call for an appointment.
Don't Ignore These Furnace Failure Warning Signs
Having a furnace break down when you need it most is inconvenient and unhealthy. Get to know the warning signs telling you it's time to call a heating contractor for help before disaster strikes. If your furnace shows any of the following, give us a call:
Doesn't put out heat like it used to
Cycles on and off frequently
Can't keep room temperatures consistent
Emits foul odors
Produces strange sounds such as grinding or squealing
If you notice any of those signs, call (703) 884-2376 today for heating repair to ensure your system stays reliable all winter long.
What's the Key to Furnace Longevity? Regular Maintenance!
Since no one likes replacing their heater or furnace because of the hassle and the expense, it's wise to ensure your system remains faithful year in and out by keeping it well-maintained. Here are a few tips to do just that:
Keep your filters clean
Check the blower motor for proper function
Reduce your home's heating load to ensure your furnace doesn't have to work as hard
Keep your vents and exhaust flue free from obstruction
Call a heating contractor at least once a year for maintenance service
Are you worried about the cost of a new furnace or furnace repair? We have many financing options to make it affordable to almost anyone.
When to Call For Heating Repair
Call a professional HVAC company for help right away if your furnace:
Suddenly stops working
Pumps out cold air
Pilot light won't stay lit
Produces bad odors or you smell gas
Don't wait for winter to find out your furnace is failing. Call Nice Heating & Air in the Fairfax, VA area and get a tune-up! Call today at (703) 884-2376.
We Offer Nice & Friendly Service!
Serving Springfield, VA &
the Surrounding Areas
Why Choose NICE?
Professional Service for All Makes & Models
100% Satisfaction Guaranteed
Nice, Neat & Knowledgeable Technicians
Angie's List Award Winner – 7 Years Straight!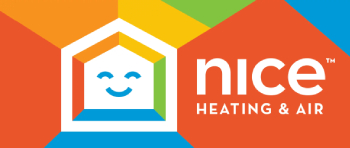 Join Our Cozy Club
Maintenance Plan!
It's the NICEST way to gain comfort.