Air Conditioning Services for Oakton, VA
Oakton's Trusted AC Service Technicians
The summer in Northern Virginia can be tough without good air conditioning. Fortunately, you don't have to sweat it out. Make sure you're ready to beat the heat with help from Nice Heating & Air.
No matter how big or small your project is, our HVAC technicians can get your heater and air conditioner running like new. Whether you need a few simple repairs or a total system replacement, we're your go-to crew for all things HVAC.
Schedule the HVAC services you need now by speaking with Nice Heating & Air.
Air Conditioning Repair in Oakton
All cooling units will eventually need air conditioning repairs. If your system isn't working right, Nice Heating & Air can get to the bottom of the problem. Give us a call if you notice:
Your system doesn't cool off your property evenly.
Your energy bills spike significantly during the summer.
Your AC unit or heat pump turns on and off constantly.
You notice loud sounds coming from your AC system.
Count on us to get your AC system working like new. Talk with our team now to schedule AC repair services in Oakton.
Air Conditioning Installation & Replacement in Oakton
When your air conditioner is too old to keep running, it's time for an AC replacement. Nice Heating & Air can swap out your old unit for a new one if:
Your AC regularly needs repairs.
Your AC system is over a decade old.
Your AC can't keep your property cool.
Our team will review the entire replacement process with you from start to finish. We offer free estimates for replacement systems, so you know what to expect.
You need a reliable AC system that can handle the heat. For air conditioner replacement services, connect with Nice Heating & Air.
Air Conditioner Maintenance in Oakton
Maintaining your AC is the best way to keep it running at its peak. At Nice Heating & Air, we perform comprehensive maintenance services. We even have the Cozy Club Maintenance Plan, featuring:
Heating & cooling system maintenance
Two annual maintenance checkups
Free service calls during business hours
A 10% discount on all services
Let Nice Heating & Air keep your AC system working right. Reach out today to schedule a maintenance check.
Request AC Services with Nice Heating & Air Today
When your AC system isn't acting as it should, you need certified, licensed, and insured technicians to help. The Nice Heating & Air team has spent over a decade providing exceptional HVAC services to every client we have served. We believe in offering fair pricing, financing options, and proper repairs that last.
Feel nice and cool all summer long with help from our team. Schedule air conditioner repair, replacement, or maintenance today in Oakton, VA.
We Offer Nice & Friendly Service!
Serving Springfield, VA &
the Surrounding Areas
Why Choose NICE?
Professional Service for All Makes & Models
100% Satisfaction Guaranteed
Nice, Neat & Knowledgeable Technicians
Angie's List Award Winner – 7 Years Straight!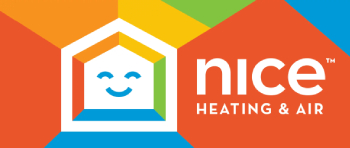 Join Our Cozy Club
Maintenance Plan!
It's the NICEST way to gain comfort.