AC Repair & Maintenance in McLean, VA
You rely on your AC to keep your family cool and comfortable when temperatures skyrocket, and when it isn't doing the job, you need an AC contractor you can depend on to get your system back up and running — that's Nice Heating & Air.
We don't like to toot our own horn so we let our customers do that for us. Check out our customer reviews and call us at (703) 884-2376 for an appointment.
AC Repair - Signs you should call us:
The key to preventing AC failure is to recognize small problems and take care of them before they become big ones down the road. Here are some signs your AC isn't healthy and that you need to call for help right away.
Your AC squeals, grinds, or whines.
Your AC leaks refrigerant or produces excess moisture.
The room temperature won't stay as cool as you like it.
Your AC can't maintain consistent temperatures between rooms.
Your airflow is poor.
The air coming out of your ducts smells funny.
All the above are signs your AC needs repairs and is failing. Getting these problems fixed now means you won't suffer failure later.
AC Maintenance Keeps Your System Healthy & Efficient
Just like getting your oil changed and your engine inspected, performing routine maintenance on your air conditioner is key to ensuring it works as expected and remains efficient for the length of service. If you're not performing regular maintenance, you're asking for trouble in the form of higher energy bills and AC failure. Change your filters every month, keep your vents and ducts clear, and call a professional for AC maintenance and tune-up at least once a year. The small cost of maintenance now ensures you won't be shelling out more for major repairs later.
Save on your next heating or cooling service when you take advantage of our special deals!
When to Replace Your AC
The thought of replacing an air conditioner is enough to leave many people hot under the collar. And while it can be cheaper to repair your current unit, sometimes a full-on replacement makes more economic sense, and here's how:
If your AC is over 15 years old, it's at the end of its natural life
If it's getting harder to find parts for your unit, it's time to upgrade
If your AC is old and inefficient, a new, high-efficiency one will save you money on your energy bills
If the cost of the repairs will be more than half of the cost of new, get the new system
Hours:
| | |
| --- | --- |
| Sunday | Open 24 hours |
| Monday | Open 24 hours |
| Tuesday | Open 24 hours |
| Wednesday | Open 24 hours |
| Thursday | Open 24 hours |
| Friday | Open 24 hours |
| Saturday | Open 24 hours |
For all of your AC service needs, call the award-winning Nice Heating & Air in the McLean, VA area at (703) 884-2376.
We Offer Nice & Friendly Service!
Serving Springfield, VA &
the Surrounding Areas
Why Choose NICE?
Professional Service for All Makes & Models
100% Satisfaction Guaranteed
Nice, Neat & Knowledgeable Technicians
Angie's List Award Winner – 7 Years Straight!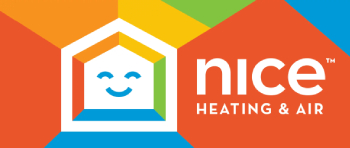 Join Our Cozy Club
Maintenance Plan!
It's the NICEST way to gain comfort.