Air Conditioning Services in Manassas, VA
Professional Air Conditioning Services to Stamp Out the Sweltering Heat!
Keeping cool in your Manassas home doesn't just mean having a top-quality air conditioning unit installed: It also means having access to the fast, reliable cooling specialists you need when your AC malfunctions or breaks down. No matter what your air conditioning service needs may be, Nice Heating & Air has the HVAC technicians available to address them in no time.
When you're seeking air conditioning services in Manassas, there's no better team for the job than Nice Heating & Air. Allow us to resolve all your AC issues by scheduling air conditioning services with our team today!
Signs Your Manassas AC Needs Repair or Replacement
Most air conditioning manufacturers design their units to last about 10 years. Here in Manassas, 95% of homes were built 10 years ago or longer, meaning your air conditioner could be outdated if it hasn't been replaced since the property was built. In addition to age, homeowners should watch for the following signs that indicate their AC is about to need repair or replacement service:
Poor airflow
Warm air blowing from the unit
Frequent system short-cycling
Inability to maintain the desired temperature
Leakage around system
Strange noises coming from the unit
Foul odors blowing from AC
If you've noticed any of the signs of imminent breakdown, it's time to call in the cooling specialists at Nice Heating & Air.
Contact our team to schedule AC repair or replacement services in Manassas today.
Manassas Air Conditioning Services
Nice Heating & Air is proud to be Manassas' end-to-end cooling solutions provider. We offer the following comprehensive air conditioning services to help Virginia families keep the heat out of their homes:
From central air and heat pumps to ductless mini-split systems, there's no air conditioning unit that our team can't service.
Schedule air conditioning installation, replacement, repair, or maintenance by contacting Nice Heating & Air today!
Why Choose Nice Heating & Air?
Our team is more than just the leading HVAC service provider in Manassas. We are committed to the community we serve, offering plenty of unique service benefits that allow our team to provide a truly unmatched customer experience. When you select our team for AC service, you'll always enjoy:
Service for all AC makes and models
100% satisfaction guaranteed
Nice, neat, and knowledgeable service technicians
On-time, tidy professionals
Find out why our team was the Angi Super Service Award winner for seven years in a row: Schedule air conditioning service in Manassas with Nice Heating & Air today!
Schedule Professional AC Service in Manassas
Whether you're seeking air conditioning repairs or simply need a unit installed in your newly constructed home, Nice Heating & Air has the products and services you need to achieve year-round home comfort in no time.
Allow our team to bring long-lasting, cooling comfort to your Manassas home by scheduling air conditioning services with our HVAC technicians today.
We Offer Nice & Friendly Service!
Serving Springfield, VA &
the Surrounding Areas
Why Choose NICE?
Professional Service for All Makes & Models
100% Satisfaction Guaranteed
Nice, Neat & Knowledgeable Technicians
Angie's List Award Winner – 7 Years Straight!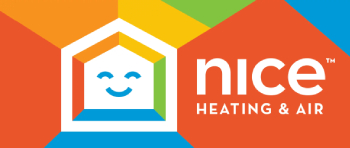 Join Our Cozy Club
Maintenance Plan!
It's the NICEST way to gain comfort.