Air Conditioning Services in Centreville, VA
As warmer weather settles into Virginia, Centreville residents need to be proactive about their home air conditioning service needs. By addressing your AC services now, you can avoid sweating through the dog days of summer in the not-so-distant future. At Nice Heating & Air, our team provides the comprehensive cooling solutions that Virginians need to stay comfortable all summer.
From prompt AC repair to air conditioning installation for newly constructed homes, there's no air conditioning service request too difficult for us to handle. Allow us to improve your home comfort this season by scheduling air conditioning services with Nice Heating & Air today!
Signs You Need AC Service in Centreville
Most air conditioning systems only last about 10 years. In Centreville, 99% of homes were built 20 years ago or longer, which could mean bad news for your air conditioning performance. If you haven't updated your unit since the home was built, you could be relying on an outdated system.  
In addition to age, there are many other signs that can indicate it's time to schedule professional air conditioning services, including:
System blows hot air
Not enough airflow
Damaged or inaccurate thermostat
Frequent system short-cycling
Increased repair requests
Broken/frozen air compressor
Foul odors coming from your unit
Strange noises emanating from the system
Sudden increase in energy bills
If these symptoms are showing up in your air conditioning system, it's time to schedule AC services with Nice Heating & Air. Our expertly trained professionals have the skills and expertise you need to address all your cooling service requests in no time.
Our Centreville Air Conditioning Services
Nice Heating & Air is uniquely equipped to handle all your air conditioning service needs. Featuring the most highly trained technicians and top-rated cooling systems, we are confident in our ability to bring long-lasting comfort to your home. Our air conditioning service offerings include:
Whether you're looking for ductless mini-split air conditioning, smart thermostats, or anything in between, our team has the products and services you need to survive the summer season.
Why Choose Nice Heating & Air?
At Nice Heating & Air, our team doesn't just deliver the most advanced cooling solutions to Centreville families. We take pride in our workmanship and are dedicated to doing everything in our power to ensure your total comfort and happiness with our products and services. When you select our team, you'll always enjoy peace of mind knowing our air conditioning services are backed by the following guarantees:
100% Money-Back Guarantee: If for any reason you aren't 100% satisfied with your AC work, service, equipment, or experience within two years of your installation date, we'll return 100% of your investment.
Comfort Guarantee: If your new air conditioner fails to meet your comfort needs, we'll remove it and replace it with one that will.
Utility Savings Guarantee: We certify that our air conditioning systems will save you at least 20% on your annual energy expenses or we'll write a check for double the difference.
Property Protection Guarantee: If there are any issues caused by our staff during your AC service appointment, we'll pay a professional of your choice to remedy the problem.
Clean Home Guarantee: Our team will leave your home in a cleaner state than when we found it, or we'll pay a cleaning professional to make it right.
No Lemon Guarantee: If an air compressor in your AC system fails within the first 10 years, we'll replace the whole system at no cost.
Schedule AC Services in Centreville!
Say no to stifling summer heat by scheduling air conditioning services in your Centreville home before the season is here to stay. Whether you need reliable AC repair or want to replace your air conditioning unit with an energy-efficient upgrade, Nice Heating & Air has you covered.
Contact us to schedule air conditioning services in your home today.
We Offer Nice & Friendly Service!
Serving Springfield, VA &
the Surrounding Areas
Why Choose NICE?
Professional Service for All Makes & Models
100% Satisfaction Guaranteed
Nice, Neat & Knowledgeable Technicians
Angie's List Award Winner – 7 Years Straight!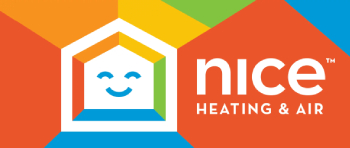 Join Our Cozy Club
Maintenance Plan!
It's the NICEST way to gain comfort.